Awakino Ski Area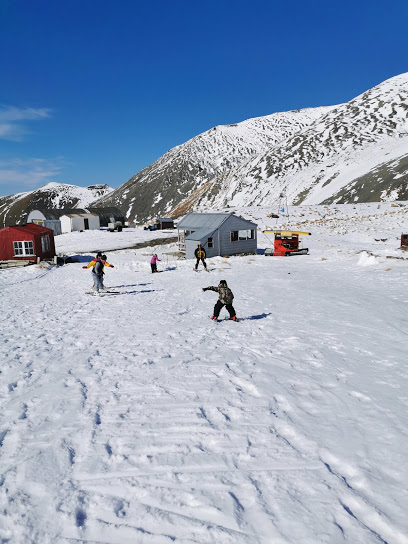 AWAKINO SKI AREA
The Awakino Ski Field is a friendly and affordable club-operated skifield situated high in the St Marys Range near Kurow in the Waitaki Valley. The field is situated in a sunny, north-facing valley with fantastic views over the Waitaki Valley and Hakataramea. It boasts one and a half high-speed rope tows, queues are unheard of and a busy day means more than 10 people.
It is renowned for its deep wind-blown powder, fantastic terrain suiting all abilities, and its pioneering spirit. Amongst all the club fields in New Zealand, Awakino best represents skiing as it first began. It has been described as a timeless place, and gliding down admist the white gulleys and rock towers of Glacier Basin on a good day, with the distant rattle of a rope tow pulley on the ridge above, it feels like just that. There is extensive ski-touring on the ranges just beyond the ski field boundaries and endless untracked powder just waiting to be found.
THE FIELD
The field is normally open most weekends from July to October. Long weekends may operate when the snow conditions are good and club members are available. Information about accessing the field is available here.
The Waitaki Ski Club welcomes membership from those people with a long-term commitment to club skiing and the Awakino field. Membership fees are modest, but every able-bodied member is expected to contribute to work parties.
THE LODGE
Awakino operates a 40 bunk accommodation lodge, situated at 1100 metres on the access road, 300 metres below the field base buildings. This is normally at the limit of the winter snowline, and is accessible on skis from the main field down two side gulleys (Arthurs run and the old access tow gulley). 4WD access is normally available to the lodge, otherwise it is a 30 minute walk to it from the top car park in the valley below.
The lodge has two bunkrooms, and is heated by a combination of coal/wood burners and generated electricity. Fitted with flush toilets, hot showers, full kitchen facilities, dining room/hall, deck with a view and an outdoor heated spa. The lodge is original, dating back to the earliest days of skiing in New Zealand. The best thing is that the lodge has NO cellphone coverage, so the modern world can't find you in this mountain hideaway.
Bookings for the lodge, which is normally open on Fridays and Saturdays when the field is open are essential. Outside of these times the lodge can be readily booked by the public through contacting the club. Two rates are available – with services (gas/electricity), and without electricity. Please use the contact information on this website to book it.
The lodge is a perfect place for activities other than skiing, such as mountain instruction courses, tramping and mountain biking in the summer.
FORECAST
MORE DETAILS
PRICES – 2020 AWAKINO FEES
LIFT TICKETS
Full Day Half Day (1pm onwards)
Adult $55.00 $35.00
Student $45.00 $30.00
Child $30.00 $15.00
ACCOMMODATION
First Night Nights thereafter
Adult $35.00 $25.00
Student $35.00 $25.00
Child $20.00 $15.00
PACKAGES
Weekender
2 day pass, 1 night accom. Long Weekender
2 day pass, 2 nights accom. Short Weekender
1 day pass, 2 nights accom.
Adult $135.00 $10 off $150.00 $20 off $105.00 $10 off
Student $115.00 $10 off $130.00 $20 off $95.00 $10 off
Child $70.00 $10 off $75.00 $20 off $55.00 $10 off
Notes:
All prices are in NZ Dollars (NZD)
All prices include 10% DOC levy
Cash only, no EFTPOS or credit card facilities
Definitions:
Child: Up to Year 8 (i.e. end of intermediate school)
Student: Year 9 to completion of tertiary study (Student ID may be requested)
Other options:
Key deposit: $100 (for access to the field), refundable upon return of the key
Tow belt hire: FREE with lift pass
Ski lessons: $60/hr for up to 2 people, $100/hr for 3-5 people (subject to availability)
Ski Touring & Snowmobile access $10 per vehicle (free if staying a night in the lodge)
We can also transport you up the 4WD road by arrangement