Manganui Ski Area

MANGANUI SKI AREA – STRATFORD MOUNTAIN CLUB
Nau mai haere mai ki te Maunga!
Never Been to Manganui? We are Taranaki's Snowboard & Ski Area, with small beginner/intermediate, and larger off-piste adventure-type intermediate/advanced terrain; located on NZ's most accessible alpine area.
"Ka haere au ki te retireti hukapapa i te Maunga" …I am going to go Snowboarding on the Mountain!
Manganui Ski Area consists of gentle intermediate runs and open bowls. Manganui is family friendly, while also having outstanding steep runs for skiers and snowboarders.
Manganui has a T-Bar, a learner's rope tow, access tow, and a fixed grip rope tow or 'Nutcracker' (The Top Tow).
5% Beginner
35% Intermediate
65% Advanced
Our terrain goes from a sublime beginner-intermediate t-bar, with 140m vertical, to our nut-cracker rope tow which is about 300m of fall line skiing (think Treble Cone front side steepness).
Ski season is usually mid-June to early-October. During the last few years, we have been the 1st field to open in the North Island.
The ski area is low lying (1260m lower mtn) and experience extreme rain events typical of Mt. Taranaki. This can quickly melt away or turn our snowpack isothermal. With so much precipitation — ranking second in NZ — it's also an ice climbers mecca!
The Manganui Ski Area consists of gentle intermediate runs and open bowls. Brown Bear Ski & Snowboard Area Guide has rated Manganui as family friendly, and also to have outstanding steep runs for skiers and snowboarders. The Lower mountain is an alpine tussock meadow (mowed), so only needs 20-30cm of snow cover to operate. This is generally why we typically open early.
Our snowpack can come and go during the season, so we can't guarantee consistent operation. But when it's on, IT'S ON! – much like the local surf conditions. So get here before it goes!
FACILITIES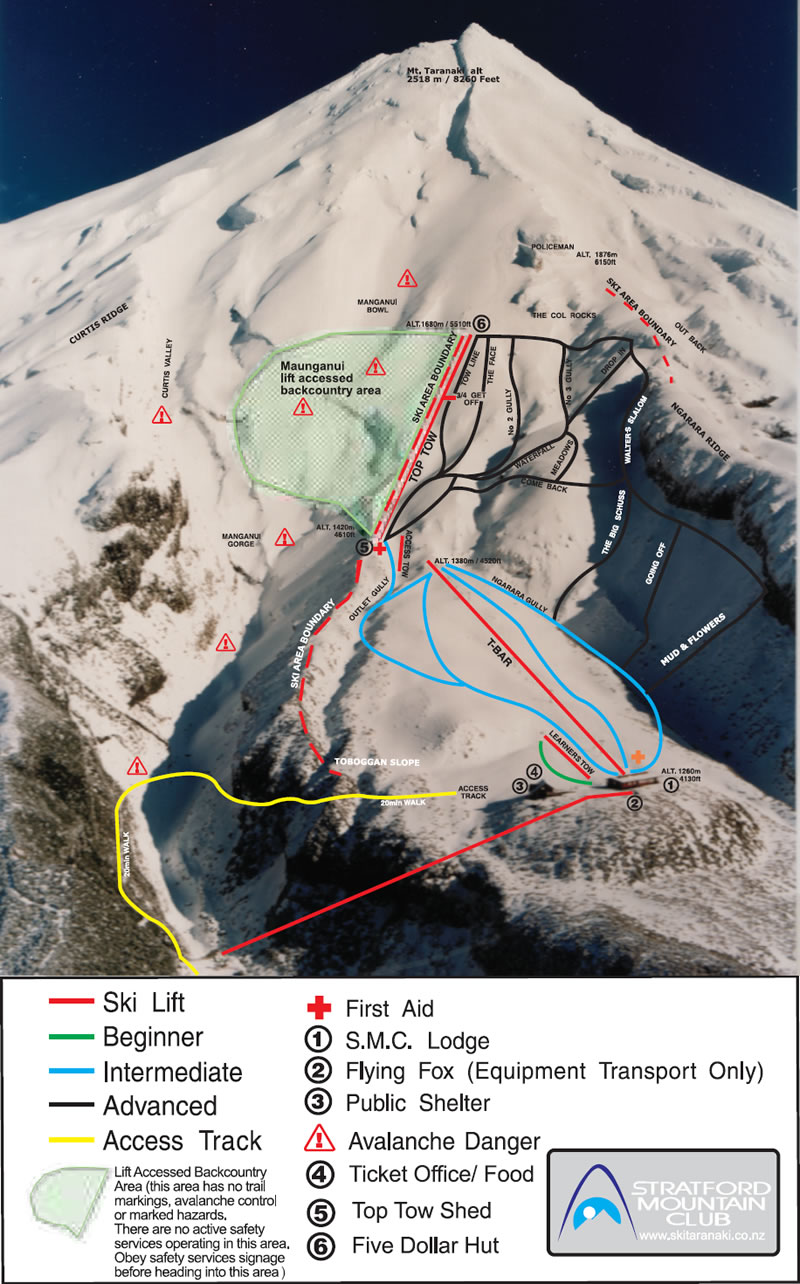 Mountain Facts – ngā meka o te Maunga
Average Snowfall: 300 cm
Lodge Base elevation: 1260 metres
Highest Point: 1680m
Vertical Drop: 420m
Mt Taranaki Summit elevation: 2518 metres.
5% Beginner : 35% Intermediate : 65% Advanced.
Skiable Area: 59ha.
Snowpack: comes and goes; we have periods when we are temporarily closed during the season due to lack of snow.
Ski: Awesome kilometre-long runs.
Board: Two natural half-pipes, Terrain Park features set up on T-bar.
Season: early June – mid-October (dependant on natural snowfall)
Lifts: 3 Rope Tows, 1 T-bar
Groomers: 1
Snow Making: No
Heli-skiing: No
Access: sealed road to Plateau car park at 1050m; 25-30min walk from car park to ski area, with goods lift halfway.
Mountain Transport: No
Off Field Ski & Snowboard/Boot Hire: Taranaki Ski Hire, Pembroke Road Stratford (on the way to the ski area) ph 027 526 6447.
Beginner lifts/lesson packages*
On-Field Accommodation: Yes
OUR MODEST FACILITIES
Goods Lift
Rope Tows: 1 Learners Rope Tow, Top Tow (fixed grip or nutcracker), Access tow to Top Tow (fixed grip or Nutcracker)
Lifts: 1 beginner intermediate T-bar
Groomers: 1
Snow Making: No
Heli-skiing: No
On Field Accommodation: Yes
our base facilities from left to right: T-bar, Manganui Club Lodge, Learners Tow, Public Shelter and Ticket Office / Canteen
WHAT YOU WON'T FIND (at our no-frills ski area):
On-mountain ski or board hirE
A ski school (i.e. ski/board lessons)
Public transport to/from the ski area
A car park at the ski area (you are in for a 20-30min walk!)
A chair lift
Resort style retail shopping/accommodation/facilities
FORECAST
MORE DETAILS
What makes us different?
– We are the opposite of commercial (not that convenient, but a well earned day of exercise and skiing).
– You have to walk in with your gear (25-30min; goods lift halfway)
– Good alpine footwear essential; good warm up for the walk in = less chance of injury!
– Modest tuck shop – our pies are a treat!
– NO ski hire on-mountain! NO lessons!
– We have the only fully sealed access road to a club field car park
– Road to car park is well gritted and well maintained (by local council contractor)
– We advise you carry chains, you will require chains on 2WD on occasion
– 4WD car with road tyres is plenty here most of the time
– We are never crowded
– Great place to learn to ski or snowboard, and get used to riding a T-Bar
– Snowboarders definitely like our natural half pipes that abound throughout the area
– We are a surfing dominated province, so we are dominated by snowboarders here
– Good warm up for Ruapehu and other ski areas
– Upper mountain is expansive, especially when access is open to both sides of the top-tow!
Where are we? – kei hea tātou?
Travel Diary
Wide angle shot of mountain…
After skiing at Manganui, you may want to check out the SH43 'Heritage' Highway. This threads through pristine sub-tropical rain forests and unspoilt scenery, just as they were thousands of years in the past – including the beech ridge-tops of Whangamomona Saddle and the awesome Tangarakau Gorge.
Safety on Mt. Taranaki – haumaru ki runga i te Taranaki Maunga
Enjoy the National Park in a safe, controlled environment at Manganui Ski Area. Our trained and certified Snow Safety Services managed staff and volunteer staff work hard to ensure that safety comes first. Snowpack and weather observations, first aid, public safety and awareness are all part of their day.