Torpedo7 Friends and Family Summer 23 Deal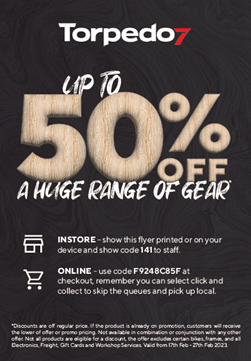 The Deal: Save up to 50% off
Valid To: 27th Feb 2023
How to redeem:
In store – Show this post. Store staff to enter the 3 digit code 141
Online – See the promo code on flyer to use at the online checkout: F9248C85F
Terms and Conditions: Discounts are off RRP. If the product is already on promotion customer will receive the lower offer or promo pricing. Not all products are eligible for a discount. Not available in conjunction with any other offer.
Excludes Electronics, Freight, Gift Cards and Workshop Services.
VALID FROM 17/02/2023 TO 27/02/2023.